You are fabulous. Really. Your tweets are the best things I read all day. Honest. Why are people unfollowing you on Twitter then?
Why are they unfollowing me? For God's sake, stay! I am awesome – look I can tweet all day! I thought you were my friend, you know what I had for breakfast!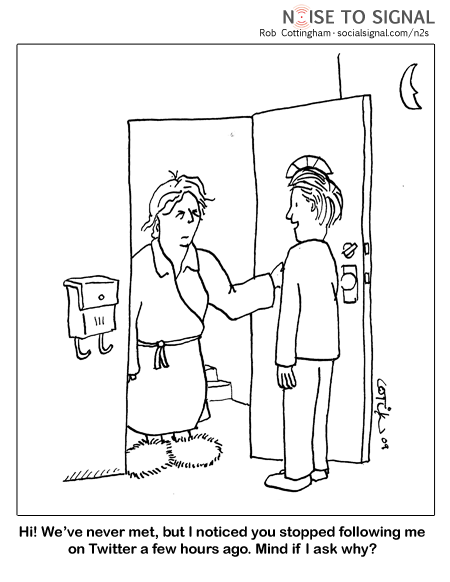 Noise to Signal Cartoon
On the JustUnfollow blog today, I am going to put on the sympathetic agony sis hat and get cracking on the saddest of questions I've encountered all week – why are people unfollowing me on Twitter? *add hysterical sobs*
OK, let's get the answer out of the way first and then we'll see what we can do about it.
They unfollow, because they can and you can't stop them. 
It really is as simple as that. Most of your Twitter followers probably don't consider you as a friend, not even an acquaintance, for all you know. Accept it. There is no emotion involved when they hit the unfollow button – don't take it personally.
Twitter is a lot of things to a lot of people and friendship is quite low on that list. It'd be really overwhelming if you set out to make friends with everyone you follow on Twitter.
So, there I said it. You can't do anything to stop people from unfollowing you.
But wait, may be there is something that can reduce your number of unfollowers: Try to become more interesting, for starters.
I am not saying you are not interesting. You are. But, if quite a bit are unfollowing you daily, it clearly shows there is scope for improvement. The best way to become more interesting is to make your tweets about your readers, as opposed to about yourself. Share interesting stuff with them, make them laugh, make them reply, get them to care.
A few do's if you want people to continue following you:
-Fill your profile: Change your profile pic. The egg shows you just don't care about twitter all that much.
-Avoid selling, selling and selling on Twitter.
-Desist from using foul, rude language
-Be nice, be interesting and interact with other tweeps
That's it. More on this sometime in the future.
Meanwhile, if that unfollow was uncalled for, you know what to do: JustUnfollow!
Like this post? Share it with others using the social media links on the left. Want to stay updated with the cool stuff we share here? Add your email below and subscribe! We won't send you spam – promise!